Ring vs Mitel: Which Unified Communications as a Service Is Best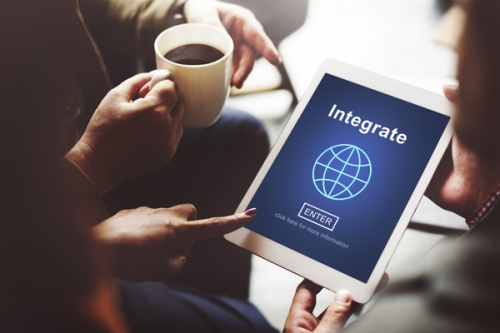 More and more companies are changing the way they communicate—both internally and externally—by switching to Unified Communications as a Service. In doing so, they're combining the many different communication tools and software they use into one, easy-to-use platform. Two of the most popular providers of these communications tools are RingCentral and Mitel; but how do you know which one is right for you? Today, we're breaking it down and comparing Ring vs Mitel UCaaS so you don't have to.
What is Unified Communications as a Service (UCaaS)?
Before we dive in, let's establish a clear definition of Unified Communications as a Service. A Unified Communications system is simply a VoIP phone system that can integrate, or unify, communication technologies and software into one platform.
In today's digital age, most businesses communicate via multiple channels including phone, video, email, and instant messaging among others. A UCaaS system helps bring those channels together to work seamlessly in one easy-to-use solution.
Unified Communications as a Service, or UCaaS, is the deployment method that's used to deliver UC to companies via the Cloud. Unlike the more traditional on-site UC systems, UCaaS operates as a subscription service with lower or no upfront costs.
The benefits of UCaaS
UCaaS boasts a long list of benefits for businesses across every industry. Some of the top benefits include:
Reduced costs – With most Cloud-based services, there are virtually no upfront costs. Instead, the service provider absorbs the initial equipment cost and your business pays as you use it, leading to both short- and long-term cost savings.
Increased functionality – With remote work at an all-time high, increased functionality is more important than ever before. And with UCaaS, employees can access communication tools from any device, anywhere.
Superior reliability – Communication is crucial to virtually every business. And if equipment goes down, it can mean missed sales opportunities, fewer leads generated, and a loss of revenue. Luckily, UCaaS is exceptionally reliable. With built-in geo-redundancy, you can rest easy knowing if one piece of equipment goes down, a different piece will kick in.
Ring vs Mitel
As mentioned earlier, RingCentral and Mitel are two of the most popular UCaaS service providers. But depending on your communication needs, one option is likely better than the other. Here's how RingCentral and Mitel compare.
RingCentral
RingCentral is widely considered as a UCaaS application specialist within the industry. Their top strengths include:
Demonstrated success in supporting clients with more than 5,000 end-users
Strong contact center capabilities
A robust API ecosystem with easy integrations to other Cloud applications
Mitel's MiCloud Connect

Mitel's flagship UCaaS product is called MiCloud Connect. MiCloud Connect offers solutions for phone, unified messaging, email-to-fax, meetings, and team messaging capabilities among others. Their top strengths include:
A robust support process for easy implementation
Top-rated telephony and mobile experiences with strong voice quality and reliable service
Custom solutions for specific industries including hospitality, healthcare, and retail
Talk to the experts about Ring vs Mitel UCaaS
As you can see, both Ring and Mitel systems have their pros and cons. If you're still unsure which solution is right for your business, reach out to us at High Country Workplace Technologies. We work with both service providers and we can help ensure you find the perfect fit for your business.
Contact us today to learn more.