Voice and Data Cabling
Serving Cheyenne, Fort Collins, & Arvada, CO
High Country Workplace Technologies can provide cabling and fiber optic internet in Denver and the surrounding areas so that your enterprise always has the Internet speed necessary to succeed in today's business marketplace.
The Right Speed At the Right Location
When you don't have enough speed on a desktop because your Internet is sluggish, it slows down your productivity and costs the company money. Alternatively, you can also be paying too much for Internet speed in an area that doesn't need it. Both scenarios mean your cabling and fiber optics aren't cost effective. We can help you get the right speed at the right location, so you have efficient fiber optic internet in Denver that can save you money in the long run. We are experts at listening to your needs and configuring the right solution to solve your cabling and fiber optic internet needs.
Upgrading to Fiber Optic Internet In Denver
When it's time to upgrade your bandwidth, fiber optic internet in Denver is the go-to choice. Don't worry. We can help you find the least expensive carrier and facilitate the entire upgrade process from designing the fiber optic framework to preparing the installation, to testing and certifying.
Designing the Fiber Optic Pathways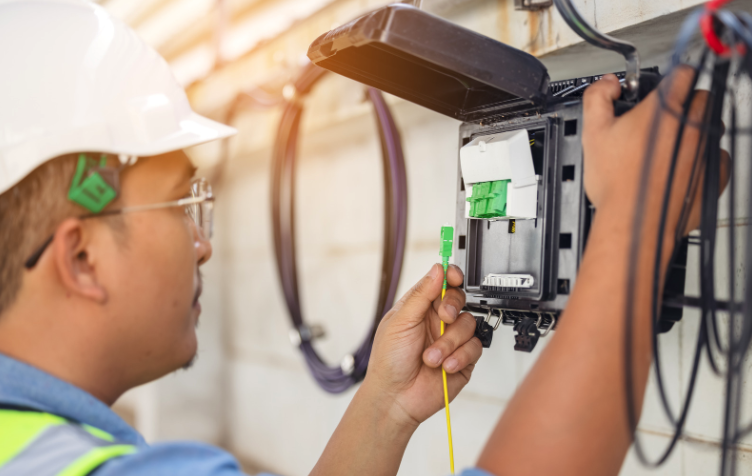 Some locations in your enterprise require more bandwidth speed than others. For example, the accounting department is primarily running spreadsheets and doesn't need a great deal of Internet speed. One hundred megs of speed will work just fine for them. However, the engineering department is working with CAD software and online 3D imaging, so they need a gigabyte of bandwidth speed. We work with you to determine your cabling needs based on today's needs and tomorrow's. We make sure your fiber optic internet in Denver is correctly sized so you're not paying for speed you don't utilize.
Preparing Your Location For Fiber Optic Internet In Denver
Once the design plan is completed, you'll need a pathway to be made for the fiber that will run from the outside of your building to the inside. The area must be prepared correctly, or it costs you time and money.
We can facilitate the development of the required pathway for your fiber optic internet in Denver because we have experience with all the potential challenges – from buried conduits and pathways to IT closets to negotiating with trenching and boring companies and working with the carriers themselves. We know what they need to be able to lay cable or fiber optics, and we can put all the pieces into place, so you have a smooth transition.
Terminate, Test, & Certify
After the cable or fiber optic internet has been laid, we test it to make sure the certified bandwidth is going through the cable or fiber that's been installed. We then certify our work so you can be assured you've gotten what you've paid for. There's no better choice for cable or fiber optic internet in Denver.
Get Rid Of The Mess of Cables
Perhaps you're struggling with a mess of cables that are unsightly and unwieldy. No one wants to touch them for fear of messing up the network. We can organize the cables that run from the desktops to the IT closet to improve security, increase manageability, and create a less chaotic aesthetic. Contact us to schedule a free cable assessment to see if it's time to clean up your cable or replace it with fiber optic internet in Denver or the surrounding areas.
Moving? Upgrading Your PBX System?
If you are relocating or upgrading your other communications technology, you'll mostly likely need new cabling. We can be your one-phone-call solution because we can design and lay cabling as well as create the end user communication solution. Contact High Country to solve your cabling and fiber optics issues.