Video & Voice Conferencing
Voice Conferencing & Video Conferencing Options For Business
Effective collaboration and teamwork is all about having the right collaboration tools at the right time. Our voice conferencing and video conferencing solutions help your organization do just that. These solutions are designed to promote collaboration and teamwork among your employees, no matter where they are located. Furthermore, our customer voice conferencing and video conferencing solutions can be designed to fit your business and your budget.
Voice Conferencing
There's nothing more frustrating than a conference call with bad sound where participants can't hear clearly. High Country provides voice conferencing systems that have specially developed sound technology so everyone can hear everything on every conference call without static or background noises compromising the sound quality.
Video Conferencing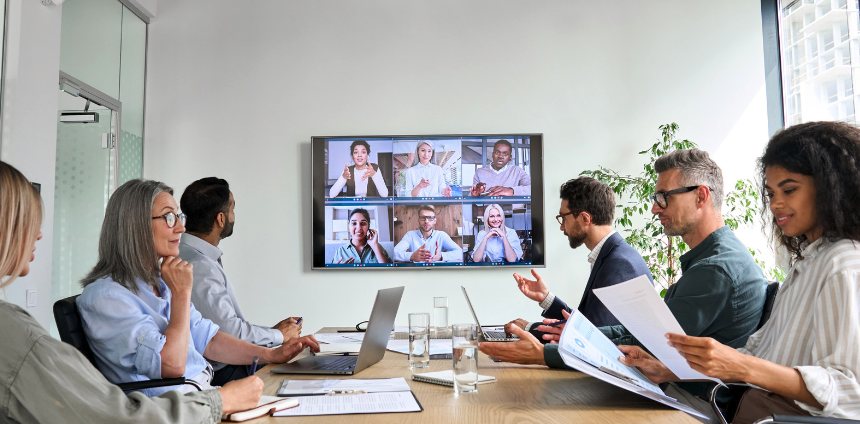 Video conferencing technology allows you to talk to one person or multiple people in different locations through a live video stream. We can configure a videoconferencing system to connect your people across the hall or the globe. We have video conference solutions that allow you to share your screen or your face in real time. Contact us to see how our video conferencing solutions can streamline your business.
Web Conferencing
Sometimes you need to share your computer screen with your coworkers and collaborate across computers so a project can be worked on by multiple people. We have easy-to-use web conferencing solutions that will make everyone on your team more efficient.
Collaboration Through Video and Voice Conferencing
Effective team collaboration requires pulling your voice, video, and project management software together in one smart solution. Employees can move effortlessly between voice conferencing, video streaming and computer screen shares to make things happen precisely when they need to. Contact us to discover how our video and voice conferencing and other collaboration tools can make your team work better together.
Teamwork And Collaboration
When your team has multiple tasks and a goal they are working on together, you can use a communications collaboration tool to facilitate their teamwork. High Country supplies the software and networking solutions to make that type of team collaboration smooth and easy. We currently support Naropa University, The Veterans Administration of Colorado, and the City and County of Broomfield, among many others, in their video and voice conferencing needs. Tell us how you want to work together, and we will customize an industry-leading solution that fits your needs and your budget. What's even better is our solutions are expandable so that they can grow with your company. Contact us to see how collaboration can improve your business.