RingCentral's cloud business communication solution can be adapted to meet the unique needs of each organization with BYOD-ready mobility support. With RingCentral, you can manage your entire phone system from anywhere, anytime. And with easy app integrations across other cloud products, including Salesforce, Google Drive, Dropbox, and more, RingCentral helps businesses throughout every industry increase productivity and improve call efficiency.
Gartner Magic Quadrant for UCaaS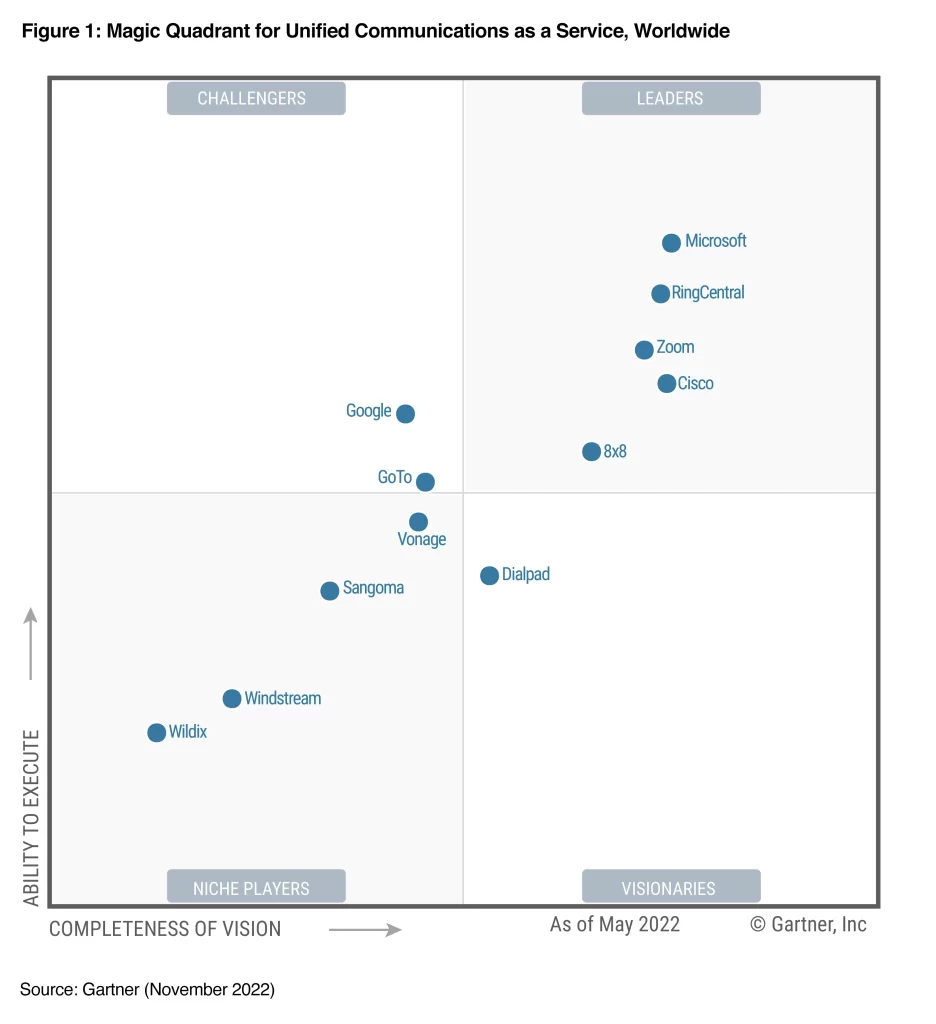 RingCentral Cloud Business Phone Systems

RingCentral stands at the forefront of cloud-based business communication, providing a comprehensive suite that includes high-quality voice, fax, text, HD video meetings, and conferencing. This makes it a go-to solution for businesses of all sizes, irrespective of their location, devices, or budgetary constraints.
Compared to traditional on-premise phone systems, RingCentral is not only easier to manage but also offers superior scalability aligned with your business growth, resulting in a reduced total cost of ownership and savings in initial capital costs. Its cloud communication solution is tailored to meet the specific needs of every business and supports a BYOD-friendly mobility approach.
Managing your entire business phone system has never been easier, available anytime and anywhere. Additionally, its seamless integration capabilities with other cloud platforms, like Salesforce, Box, Dropbox, and Google Drive, further enhance productivity and call efficiency.
RingCentral Office
RingCentral Office is considered the #1 cloud business phone system on the market. Incredibly easy to operate and manage, RingCentral makes it exceptionally simple to connect and scale workforces across multiple locations. RingCentral Office offers:
Enterprise-class voice, text, conferencing, fax, and HD video meetings
A single system for multiple locations and mobile employees
Unmatched ease of use – a PBX expert is not needed for this system
BYOD-enabled mobility, so you can have system access from any line, device, or location
App integrations to improve employee efficiency and productivity
Reliable service and free customer support 24/7
Best all-around value with an inclusive, low fixed monthly cost
When you purchase RingCentral Office, your plan includes all business phone system features, unlimited calls to anywhere in the United States and Canada, business SMS features, 1,000 bonus toll-free minutes/mo, 1 toll-free or local primary company number, 1 toll-free or local fax number, 1 local number for each team member, and dedicated account supervisors who will help set up your phone system free of charge.
RingCentral Fax®
With RingCentral fax, you can effortlessly receive faxes wherever you are, either as PDF email attachments or by viewing them online. The service allows users to send faxes directly from any Microsoft® Office tool, ensuring convenience. Furthermore, every fax is transmitted over a secure, encrypted connection, giving users peace of mind. All your faxes can be stored in a password-protected online account, ensuring security and easy access. The platform also offers free, user-friendly software to edit and electronically sign your faxes. And to keep you updated, RingCentral provides instant notifications via SMS, email, or directly on your computer whenever you receive a new fax.
RingCentral Meetings™
RingCentral Meetings is a simple but powerful HD video conferencing tool with web sharing capabilities that allow you to hold unlimited face-to-face meetings from any device, anywhere. With RingCentral Meetings, you can:
Invite up to 50 meeting participants
Deliver presentations no matter where you are using your Mac, iPhone, PC, or iPad device
Mark or draw on shared documents to simulate in-person meetings
Turn on voice recognition to highlight the current speaker so it is easier to stay on track and stay organized
Host a meeting where attendees are able to share presentations, webpages, and/or files from Dropbox, Google Docs, and Box
Use touch gestures to zoom in or focus on important information on mobile screens
Record meetings and playback or share recordings with the team so everyone can stay in the loop even if they can't make the meeting
RingCentral Meetings is included for free with RingCentral Office everywhere in the United States.
Contact High Country Workplace Technologies to learn more about RingCentral Cloud business phones.
Direct Routing with MS Teams via RingCentral
If your organization is outfitted with Microsoft Teams, direct routing is the optimal solution to make better phone calls. Direct routing allows your business to connect MS Teams to your traditional phone network, so that your team can easily make and take calls via Teams on any device. This feature can be incredibly helpful for maintaining business efficiencies, allowing users to take less expensive call rates, and improving flexibility for your workforce.
By integrating RingCentral into MS Teams with HCWT, you can select 1 of 3 levesl for your direct routing service: (1) Basic access, (2) Direct routing-as-a-service, and (3) Enhanced Microsoft Teams telephony service. Any of these levesl will streamline communications for all end users in an important way to maintain both workflow and cost efficiencies. If you're interested in setting up direct routing for MS Teams at your organization, High Country Workplace Technologies can help.
Brightmetrics: Unified Communications Analytics for RingCentral
Brightmetrics is the only tool available to access accurate analytics for RingCentral. Brightmetrics is not just another reporting tool; it makes it easy for you to view vast amounts of data collected by RingCentral so that you can properly analyze, interpret, and understand the customer experience with your staff. Brightmetrics can configure the data in your RingCentral system in any manner that works best for your team so that you can make informed business decisions and optimize your customer experience.
With the analytics of Brightmetrics, you can gain insights into customer hold times, unnecessary transfers, employee productivity, staffing levels, successful call resolutions, and so much more. Within minutes, this ultimate business intelligence resource will help you identify problems within the customer experience and act quickly, so that you can improve and maintain client relationships.