Your Guide to the Best Remote Office Phone System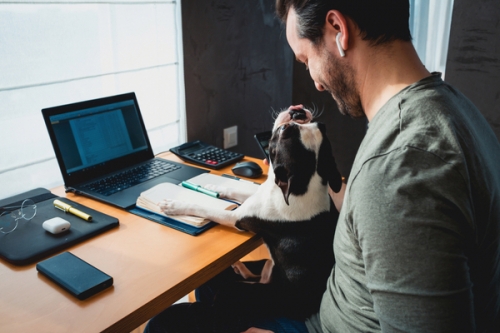 COVID-19 and the resulting shift to working from home have forever impacted the modern workplace. Companies that once thought remote work wasn't possible are now discovering it actually is—and that it's far more affordable than working in the office. While some companies have extended work-from-home policies through mid-2021, others have gone so far as to become permanently remote. No matter what, remote work is on the rise. And to ensure your business succeeds throughout this transition, you need a top-of-the-line remote office phone system.
What kind of phone system is best for companies with remote workforces?
Typically, today's office phones are either cloud-based Voice over Internet Protocol (VoIP) systems or VoIP private branch exchange (PBX) systems. If you're familiar with a traditional PBX phone system, a VoIP PBX is essentially just a more modern version that allows you and your team to use broadband and/or data connection to make and receive phone calls. Unlike the more traditional version, VoIP PBX phones don't require any hardware installation, making it a much more affordable option than in the past.
Still, cloud-based phone systems are the most popular model on the market. And they're an especially great option for companies who are shifting towards more remote work. Here's why.
Benefits of cloud-based phone systems for remote offices
By opting for a cloud-based phone system, your organization gains a flexible and exceptionally cost-efficient solution. Not only are cloud-based phone systems more affordable than landlines, but they also offer employees greater flexibility (and mobility) with their ability to route calls to and from VoIP-enabled phones, from any device, anywhere.
Here are a few reasons to consider a cloud-based phone system and more on why they can improve remote workforce productivity.
Reduce costs
Cloud-based phone systems can result in major cost savings for your business. For starters, they don't require any installation costs. A cloud-based phone system also eliminates the need for landline phones, which are often charged by the number of lines. As you may know, that can get expensive fast. But with cloud-based phone systems, you only pay for internet usage.
Increased flexibility and mobility
Cloud-based phone systems allow remote workers to share the same features as workers who are in the office, no matter where they are in the world. Workers just connect their mobile phone, tablet, or computer to the system and route calls to a business number that can be shared by multiple employees. It's really that easy!
App integrations
Cloud-based business phones also offer a plethora of app integrations that can help improve overall employee efficiency and productivity. With integrations for other cloud products such as Google Drive, Dropbox, Salesforce, and more, your team won't constantly have to switch between communication channels and waste time searching for the information they need. Instead, everything will be located in one, easy-to-access place.
Find the right remote office phone system for your business today
As remote work continues to become the new norm, it's increasingly important to ensure you have the right communication tools in place to prevent a lag in productivity. If you're interested in learning more about cloud-based phone systems and how they can benefit your business, reach out to us at High Country Workplace Technologies.
We can work with your existing provider or be your one-stop-shop for a remote office phone system set up. Contact us today to learn more.