Avaya IP Office Phone Systems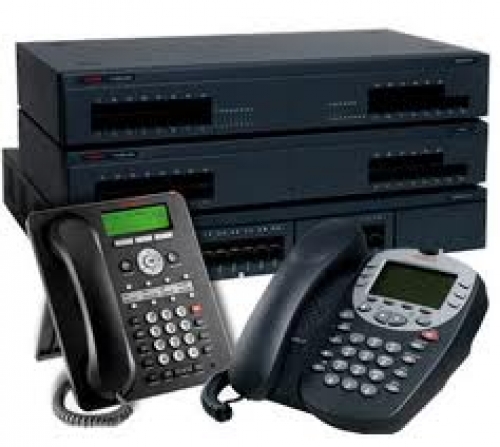 Avaya IP Office
Create your most productive mobile workforce. Easily and cost-effectively increase communications capacity, adding enhanced capabilities as your business expands. Gain business and customer service efficiencies. Avaya IP Office is easily customized to meet the communications needs of any small, midsize, enterprise branch, and growing business. Flexibility, scalability, and options are built right in:
Avaya IP Office – Go from basic telephony to the most sophisticated unified communications.
Avaya IP Office – Grow from five employees to 1,000 (at a single site).
Avaya IP Office – Network up to 32 locations.
Avaya IP Office – Launch easy communications for everyone: office workers, mobile workers, receptionists, teleworkers, and customer service agents and supervisors.
Avaya IP Office – Use IP, digital, analog, or SIP—in any combination. IP Office can interoperate with more than 2 million Avaya systems worldwide.
Avaya IP Office – Scale cost-effectively as your business grows. Simply build on what you have, without the need to replace technology.
Avaya IP Office – Combine IP Office with Avaya data networking, security features, intuitive system management tools, and affordable services support for a comprehensive communications solution.
With more than 266,000 systems installed worldwide, Avaya IP Office is the leader in unified communications for small and midsize businesses. Avaya IP Office was awarded Unified Communications Product of the Year in 2011 by both TMC and Frost & Sullivan.
With Avaya IP Office, you can give your employees the communications tools they need to perform at their best
Mobile Worker
Office Worker
Teleworker
Receptionist
Customer Service Supervisor
Customer Service Agent
Avaya IP Office Collaborate without boundaries
Enable employees to stay productive and accessible even when away from their desks. Avaya IP Office mobility applications are easy to use and feature-rich. Use IM, presence and geo-presence, full call control, and conferencing on smart phones, tablets, and laptops.
Avaya IP Office Improves responsiveness to customers
Enable customers to quickly reach the right associates—whether they're in or out of the office. Integration with desktop applications (such as Microsoft Outlook or Salesforce.com), multi-layered automated attendants, and mobility applications help speed interactions and provide personalized service to customers.
Avaya IP Office Keep up with growth
Avaya IP Office is the most cost-effective solution for growing businesses. Simply upgrade your software or add new hardware for capacity—keeping your initial investment intact. IP Office delivers both features and capacity (up to a 1,000 users on a single site).
Avaya IP Office Get complete communications functionality
We start with a built-in, secure 128-party conference bridge. We add call recording, auto attendants, voice mail, and voice-mail-to-email integration. Move up to advanced unified communications capabilities for presence status, IM, mobile call control, conferencing, and more. Integrate with desktop applications and employee devices (such as smart phones and tablets).
Avaya IP Office Lower your TCO
Avaya IP Office lets you save with the most energy-efficient desk phones, a built-in 128-party conference bridge (if you're paying a monthly fee for conferencing, spend no more) and call recording. When you upgrade from Avaya MERLIN®, PARTNER® ACS, Business Communication Manager, or Norstar, save up to 60% of your original investment.
Avaya IP Office Rely on resiliency
Take advantage of intelligent failover between sites. Or, for single location deployments, easily add a redundant server. Without the need for internal fans or hard drives, Avaya IP Office delivers a mean time between failures of 68 years.
Avaya IP Office Simplify system management
Manage multiple sites from a single interface. Use drag-and-drop system management tools. Give users the communications features they need with applications designed for mobile, office, and teleworker employees.