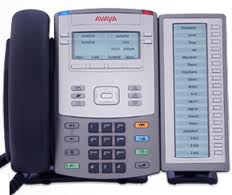 Avaya IP Phone – models
Avaya IP Phone 1100 Series Deskphones
The 1100 Series IP Deskphones feature a sleek, ergonomic design with a range of models suitable to employees at every level of business. High-resolution displays support data and web-based applications—with USB peripheral support on some models for easier navigation. Higher-end models offer integrated Bluetooth® audio gateways for increased mobility, and Gigabit Ethernet PC and LAN ports for future expandability. All of these phones provide a local secure tools menu for simplified administration and tight integration to key Avaya platforms such as Communication Server 1000, Communication Server 2100, and Business Communications Manager.
Avaya IP Phone 1200 Series Deskphones
These IP Deskphones offer multiple softkeys, integrated speakerphones, advanced audio-quality technology for crystal-clear conversations, headset support, and an integrated Ethernet switch for single-drop desktop wiring. Designed to serve a variety of business needs, they are easily customized for advanced users. The 1200 Series works with Avaya Communication Server 1000, Communication Server 2100, and Business Communications Manager.
Avaya 1400 Series Digital Deskphones
Designed to serve the needs of a wide range of business users, the 1400 Series Digital Deskphones offer a contemporary design with advanced audio technology and productivity-enhancing features. These phones work with Avaya Aura® and Avaya IP Office.
Avaya IP Phone 1600 Series Deskphones
For businesses with basic communications needs, the 1600 Series IP Deskphones deliver familiar features at an attractive price point. They are ideal for office, branch, and call center use, and can be deployed alongside other Avaya phones, ensuring that all employees have exactly the functionality they need.
The 1600 Series combines the features of traditional and IP desk phones, delivering capabilities often found in higher-priced devices. All models feature backlit displays, high-quality full-duplex speakerphones, and buttons with dual LEDs (red and green) that give the user easy-to-read status information. They can support from three to 16-line appearance/feature keys and display up to four lines.
These phones are designed to work with the Avaya Aura® and IP Office platforms.
Avaya IP Phone 2000 Series Deskphones
This versatile series of IP deskphones delivers business-grade telephony features and applications supported on the Avaya Business Communications Manager 400, Communication Server 1000, and Communication Server 2100 platforms. The 2007 IP Deskphone is designed for managers, executives, knowledge workers, and anyone else using vertical applications that leverage converged voice and data applications. This advanced multi-line IP phone has a large color touchscreen display and an integrated 10/100 switch.
Avaya IP Phone 2250 Attendant Console
This fully digital attendant console delivers efficient, high-speed call processing. It offers advanced capabilities that transform the attendant position into a streamlined, highly productive call-answering and message center.
Avaya IP Phone 3700 Series DECT Handset
This family of mobile handsets delivers high-quality wireless voice communications to employees who roam within a building or campus. The handsets offer all the benefits of the DECT standard, including high security, scalability, low power consumption and long talk/standby times. For users, the handsets offer productivity features like SMS messaging, a Bluetooth headset interface, and PBX features like hold, conferencing and messaging. To simplify management, they support remote configuration over the air or via cradle, 19 built-in user interface languages, and options for both IP DECT and ISDN DECT radio base stations. The 3700 Series works with Avaya Aura® and IP Office platforms
AvayaPhone 3900 Series Digital Deskphones
Improve productivity with these phone models that offer an easy-to-use interface, call logging, self-labeling keys, simplified administration, and more.
Avaya IP Phone 4000 Series DECT Handsets
These handsets provide mobility across the workplace, allowing employees to stay connected via the wireless network as they move through a building or campus.
Avaya Phone 7000 Series Digital Deskphones
The 7000 Series Digital Deskphones set the standard for durability, reliability, and flexibility. These phones offer a wide range of user-friendly features to suit front desks, conference rooms, supervisors, and mobile workers.
Avaya IP Phone 7400 Series DECT Handset
The 7400 Series DECT Handsets seamlessly extend the features and applications of Avaya Business Communications Manager to provide wireless communications. The handsets offer cost-effective, high-quality multi-cell roaming capabilities within and around the office environment.
Avaya Phone 9400 Series Digital Deskphones
These phones have a smart design, delivering crystal-clear sound and a full suite of communications features.
Avaya Phone 9500 Series Digital Deskphones
With full-featured, durable, highly reliable communications solutions, these phones meet the different needs of many users.
Avaya IP Phone 9600 Series IP Deskphones
Ranging from the 9601 to the 9670G, the 9600 Series addresses the unique needs of different users. These IP Deskphones help drive increased employee productivity.
Avaya IP Phone Conference Phones
Avaya Conference Phones are ideal for spontaneous collaboration in meeting rooms, breakout rooms, and conference rooms.
Avaya IP Phone DECT Phones
These mobile IP DECT handsets deliver high-quality wireless voice communications to employees who roam within a building or campus. They offer all the benefits of the DECT standard, including high security, scalability, and low-power consumption.